---
IDLES partono questa sera i concerti italiani [Info e scaletta]
Scritto da Newsic.it il 14/07/2022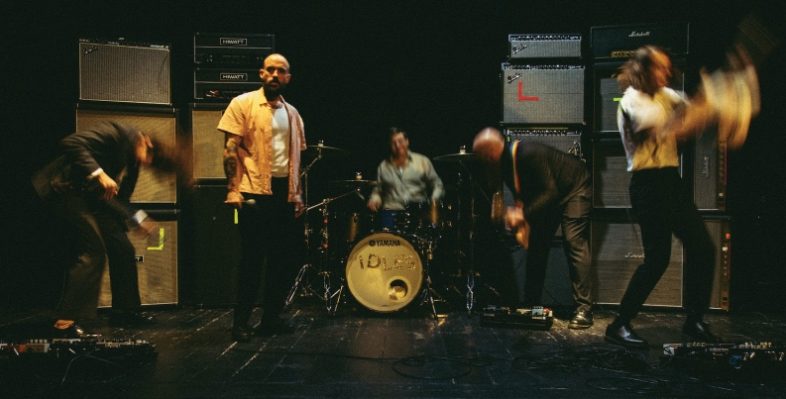 Parte questa sera il minitour italiano degli Idles.
La band ritornerà in Italia per altre tre date: questa sera, 14 luglio, al CARROPONTE di Milano, il 15/07 al PARKLIFE FESTIVAL di Padova e il 17/07 al CINZELLA FESTIVAL a Grottaglie (TA).
Negli ultimi anni gli IDLES hanno confermato le intenzioni e il successo del debut album BRUTALISM (2017, Balley Records) con il successivo JOY AS AN ACT OF RESISTANCE (2018, Partisan Records) e il relativo tour mondiale. Quella che per The Line Of The Best Fit era già dagli esordi "one of the most exciting British bands right now" è stata capace di andare oltre le aspettative di pubblico e critica, affermandosi come icone a livello internazionale. A Beatiful Thing: IDLES Live at Le Bataclan, uscito il 6 dicembre 2019, ha poi catturato le vibrazioni e l'atmosfera del loro concerto in un luogo altrettanto iconico: una gemma capace di impreziosire un percorso discografico già illuminante.
Il terzo album Ultra Mono è nato con un feeling da disco hip-hop e dalle stesse viscere musicali dei precedenti, ancora una volta sparate da Talbot contro i problemi della società con la tipica attitudine della working class. 
Il 12 novembre 2021 è uscito per Partisan Records il quarto album Crawler (LEGGI LA RECENSIONE) punto di svolta per la band e per il loro sound. 
LA SCALETTA 
Il set degli Idles questa sera dovrebbe ricalcare in linea di massima quello che hanno suonato qualche giorno fa al Melkweg The Max di Amsterdam.
Colossus
Car Crash
Mr. Motivator
Grounds
Mother
Meds
Divide and Conquer
The Beachland Ballroom
 Never Fight a Man With a Perm
 Crawl!
 1049 Gotho
 When the Lights Come On
 The Wheel
 A Hymn
 War
 Wizz
I'm Scum
All I Want for Christmas Is You
(Mariah Carey cover)
The End
Danny Nedelko
Rottweiler
WEB & SOCIAL
idlesband.com
facebook.com/idlesband/
twitter.com/idlesband
instagram.com/idlesband/
---